Julia Riesch
Scientist, Research
Address
Deutsches Zentrum für Altersfragen (DZA)
Manfred-von-Richthofen-Straße 2
12101 Berlin
Deutschland
Contact
Julia Riesch
+49 30 260740-91
+49 30 260740-33
julia.riesch@dza.de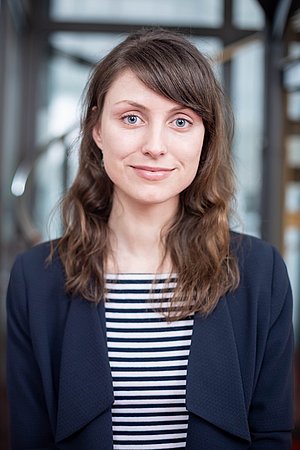 ---
Research Interests
Biography
since January 2019 Research Assistant at the German Centre of Gerontology, National Dementia Strategy
2015-2018: Research Assistant at the Institute for eHealth and Management in Health Care at Flensburg University of Applied Sciences
2014-2015: Research Assistant at Hessische Arbeitsgemeinschaft für Gesundheitserziehung e.V.
2012-2014: Master of Science in Public Health at Fulda University of Applied Sciences
2013: Student Assistant at Gesundheit Berlin-Brandenburg e.V.
2009-2012: Bachelor of Science in Health Promotion at Fulda University of Applied Sciences

Selected Publications
Kortmann, L., Hagen, C., Endter, C., Riesch, J., & Tesch-Römer, C. (2021). Internetnutzung von Menschen in der zweiten Lebenshälfte während der Corona-Pandemie: Soziale Ungleichheiten bleiben bestehen [DZA aktuell 05/2021]. Berlin: Deutsches Zentrum für Altersfragen.

Riesch, J., Meyer, L., Lehr, B., Severin, T. (2018). Dementia-specific training for nursing home staff. Zeitschrift für Gerontologie und Geriatrie 51(5), 523–529 DOI: 10.1007/s00391-017-1296-1.

Trill, R., Pohl, A.-L., Riesch J. (2016). Vergleichende Analyse von eHealth-Applikationen im Ostseeraum - Dänemark, Deutschland, Estland, Finnland. In S. H. Schug, P. Schmücker & S. C. Seidel C. Semler (Hg.), E-Health-Rahmenbedingungen im europäischen Vergleich: Strategien, Gesetzgebung, Umsetzung. (TELEMED - Nationales Forum für Gesundheitstelematik und Telemedizin - Jahresbericht), 69–79.

Bauer, C.; Becklas, C., Riesch, J. (2015). Hessen. Setting Kinder- und Familienzentren. In Landesvereinigung für Gesundheit und Akademie für Sozialmedizin Niedersachsen e.V. (Hg.), Settingspezifische Bestandsaufnahme von Qualitätsverfahren auf Länderebene. im Rahmen des Projekts "Gesundheitsförderung in Lebenswelten - Entwicklung und Sicherung von Qualität", 34–37.
Further publications of this author can be found in the section Publications. There you can filter by author name. In addition, GeroLit offers you the possibility to search the entire stock of the DZA library.